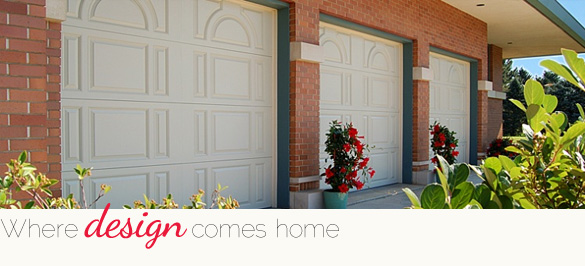 The Hamilton Parker Company sells, installs, and services commercial and residential garage doors throughout the Dayton, OH area.
From the moment you walk into The Hamilton Parker Company showroom, you'll see design come home. With expert guidance from the knowledgeable team in our garage door department and the area's most extensive selection of garage doors, we'll work with you to transform your home or business into a place that reflects your style, taste, and personality.
We invite you to visit either of our garage door showrooms conveniently located in Columbus and Delaware, OH. For general inquiries, please call or fill out a contact form online.
Residential Garage Doors in Dayton
Our installation and maintenance options will provide convenience as well as enhance the longevity of your garage door. Whether you choose a custom-made door to blend seamlessly with your home's exterior or one of our options in steel or wood, our line of garage doors and accessories brings your ideas to life.
At The Hamilton Parker Company, we sell, install, and service the largest selection of standard garage doors throughout the Dayton area. Whether you're looking for fiberglass, steel, or wood garage door options, our experienced technicians will ensure your garage door is a valuable, safe, and stylish addition to your home.
If you'd like to add a dramatic, finishing touch to your home, we also carry a fiberglass, steel, and wood carriage garage doors that combine old-world design with state-of-the-art technology.
Customize your garage door with a wide range of finishes, window accents, and hardware choices. Our expert associates will guide you in selecting from among many distinctive options, such as the artfully molded wood-grain fiberglass of Wayne Dalton's Model 9800, the classic appeal of Amarr's steel Classica Collection Carriage House Door, or the striking and contemporary Aluminum Full View Door from C.H.I.
Regardless of your style and taste, The Hamilton Parker Company offers you the choices and expert advice that will best showcase your space, bringing your design dreams to life.
Commercial Garage Door Services in Dayton
Business owners around the region know that a consultation with the experts at The Hamilton Parker Company is the surest route to finding the commercial garage door that offers the right combination of safety, aesthetic appeal, and durability–all at the most affordable price.
We sell and install Wayne-Dalton's line of commercial steel doors—known for both strength and gracious design. Backed by a lifetime limited warranty, these doors will provide many years of worry-free dependability for your business in Dayton.
Don't Forget a Garage Door Opener!
The Hamilton Parker Company offers a wide range of automatic garage door openers in Dayton that feature a variety of power levels and specifications to handle different garage door weights and sizes. Featuring brands like Linear, Genie, Lift-Master, and more, our garage door openers come with options to meet your needs for safety, convenience, and power.

Garage Door Maintenance & Repair in Dayton
Extend the life of your garage door and prevent costly garage door repairs with a garage door maintenance contract from The Hamilton Parker Company. At The Hamilton Parker Company, we offer an Annual Preventative Maintenance Check for $100/year*. If you live in the Dayton area, contact us today to sign up for our garage door maintenance plan.
In addition to our maintenance services, we are also the leading provider of garage door repair services in the Dayton area. With more than 75 years of experience, you know you can trust our garage door technicians to perform your repair quickly and correctly.
*All pricing is subject to change.